Create a Quitclaim
Deed in Minutes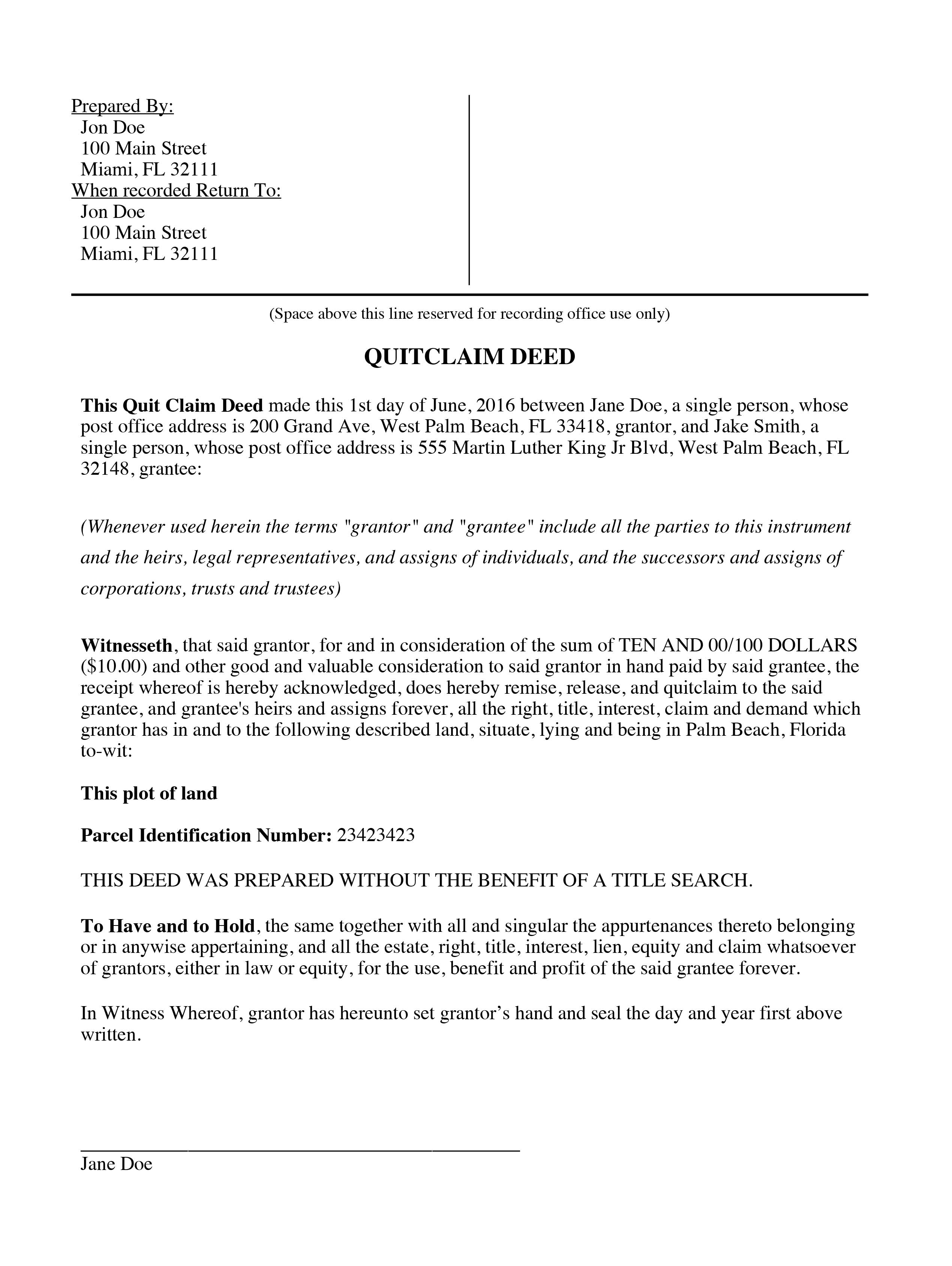 ---
1. Select a State
Tell us where you're filing so we can customize your form.
2. Generate Your Document
Walk through our easy to use form generator.
3. Download and Sign
Download and sign your legal document.
A quitclaim deed is a common legal form used to transfer property from the seller (known as the grantor) to the buyer (known as the grantee). It is called a quitclaim because the end result is that the seller quits (or terminates) any claim he or she has to the property.
Quitclaim deeds differ from other property deeds, such as a warranty deed, because they offer no guarantees as to the state of the property being transferred. Due to the lack of warranty, it is unusual for quitclaim deeds to be used in a traditional property sale between parties that aren't already acquainted. They are most often used to transfer property between family members.
An example of when a quitclaim deed might be used is in the case of a divorce. Following a divorce settlement, one or the other spouse may give up their interest in a jointly owned property.
To complete a quitclaim deed property transfer, a valid form must be signed by each of the grantors and grantees in the presence of a notary. The form must then be recorded with the appropriate county office.
*This quitclaim deed is not applicable to transferring title to Co-ops (Housing Cooperatives) and Timeshares.
*This quitclaim deed does not transfer farm land in Iowa.
The fee to create and download a quitclaim deed through our form generator is $29.95. Add-ons presented at checkout are optional and are priced as follows:
Second Look Review: $30.00
- One of our filing experts will review your document to ensure it is complete, accurate and error-free.
Recording w/ County Office: $60.00
- We will record the deed with your county office on your behalf. We will e-file wherever this option is available to expedite the process. This service includes the Second Look Review mentioned above.
*Recording w/ County Office is currently limited to the state of Florida.
NOTE: Filing fees due to the state or county office are not included.
24/7 Customer Support
Get help when you need it.
Money-back Guarantee
Not satisfied, we'll refund your money
Privacy Protected
Your information is confidential